Special products for the food industry
Optimized Production Equipment
We design work tables for all production steps. Due to constant exchange with our customers and partners, our portfolio is constantly growing. And we do, of course, keep an eye on the strict requirements of the EU food law and the Food Contact Regulations of the FDA.
We are happy to tailor customized work tables to your needs.
All products are customizable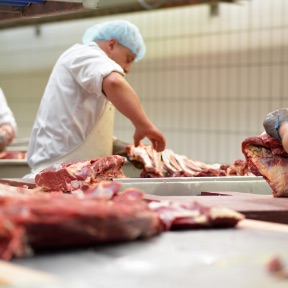 ---
---
Large Vacuum Container
In our large vacuum container bulky, or even uncut, food can easily be stored for several days.
Significantly prolonged shelf life
food-compliant materials
longer shelf life of food
high temperature resistance (-20 ° C)
easy to clean
hygienic surface
simplified intermediate storage
sustainable, environmentally friendly
reusable
stackable
repairable
individual dimensions possible
state of the art, fully automatic monitoring technology possible
---
Hygiene Foot Bath
When processing food, hygiene comes first – our foot bath meets the highest standards.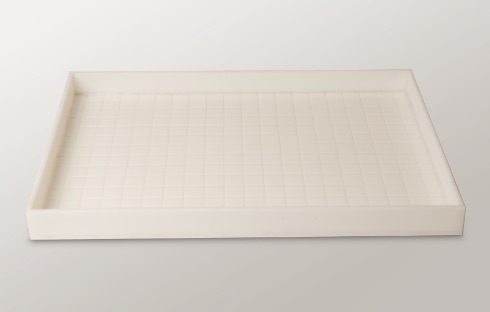 Food-compliant material
Easy to clean
hygienic surface
Light weight
non-slip
Repairable
---
Work Tables
Stable and practical
Our work tables meet the specific requirements of the food processing industry.
Short delivery time for custom-made products
Food-compliant material
No corrosion = no contamination
Light weight
Easy to clean
Easy to use
Repairable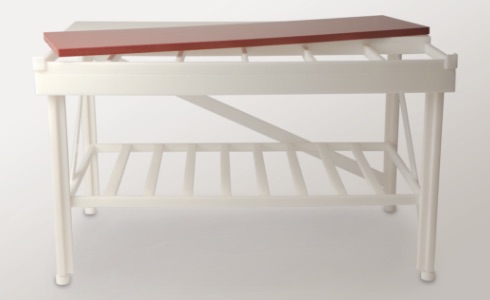 Boning Table
Our practical Boning Table with cutting board or full-surface board has the following features:
Food-compliant HDPE
Load capacity 250 kg
Height adjustable feet +/- 70 mm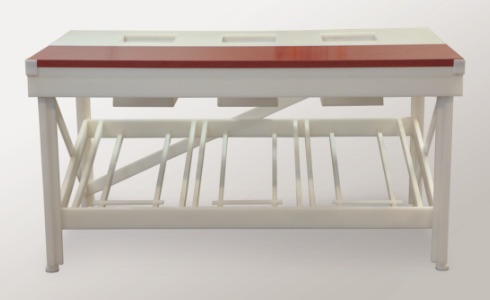 Boning Table with chutes and slots for E1/E2 crates
This Boning Table with its sorting chutes behind the exchangeable cutting board ensures a smooth workflow. It also has the following features:
Slots for standardized E1/E2 crates
Food-compliant HDPE
Load capacity 250 kg
Height adjustable feet +/- 70 mm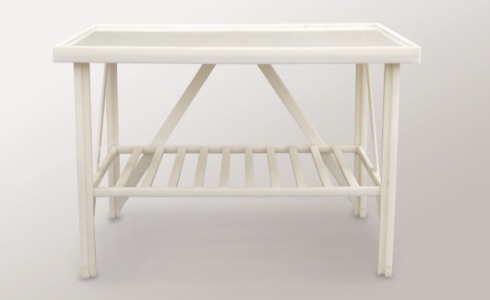 Work Table with Bead
The surrounding bead protects the goods from slipping of the table, in addition this work table has the following features.
Food-compliant HDPE
Load capacity 250 kg
Height adjustable feet +/- 70 mm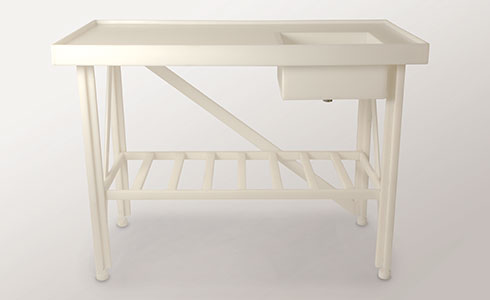 Work Table with Bead and Sink
Thanks to the sink, work at this Work Table can be done remarkably clean and efficient, and has the following features:
Food-compliant HDPE
Load capacity 250 kg
With surrounding bead
Height adjustable feet +/- 70 mm
Flexible positioning and dimensions of the sink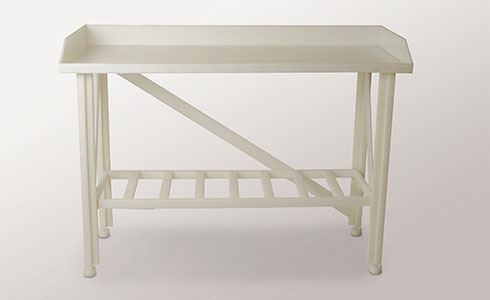 Filling Table
For a smooth workflow our Filling Table with three-sided upstand and bead at the front provided the following special features:
Food-compliant HDPE
Load capacity 250 kg
Height adjustable feet +/- 70 mm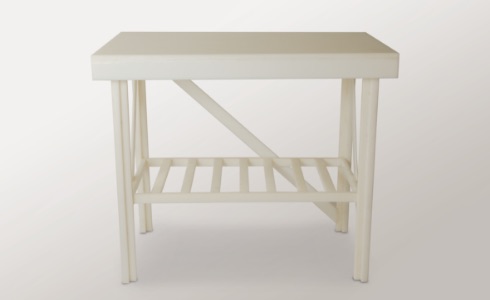 Packing Table
In addition to a comfortable working height, our Packing Table comes with the following features:
Food-compliant HDPE
Load capacity 250 kg
Tabletop plan – 100 mm bevelled on all sides
Height adjustable feet +/- 70 mm
Adjustable to your production